Health management
Smart healthcare | How to achieve fast measurement? Human body circumference/joint Angle detection scheme
In recent years, digital transformation has continued to advance, and smart medical care has achieved accelerated development. As an important link in smart medical treatment, medical testing has been subdivided into many service scenarios. In this context, Ejeray is actively providing the medical industry with a variety of digital solutions such as body circumference measurement and joint motion Angle measurement. The characteristics of precision, standardization, convenience and wireless transmission make the product recognized by medical practitioners.
The company can provide product development interface protocol package, so that the measurement hardware is directly connected to the customer's own software (APP, applet, PC), to help the intelligent operation of medical detection, to achieve data information management, the product has served a number of digital medical system projects.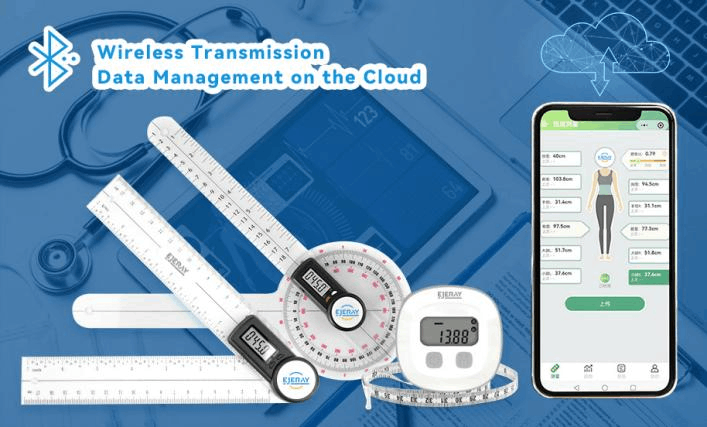 1, electronic limb Angle ruler, service joint motion assessment
Based on the core technology of Angle measurement and the market demand of the medical industry, Ejeray has introduced a new joint protractor – the electronic Limb Angle ruler. The Angle ruler can effectively measure the degree of motion of the human joint, and the electronic large-screen digital display allows the user to easily read and say goodbye to the laborious assessment on the dial; The one-click zero function allows users to calmly deal with a variety of joint Angle measurement problems.
If the measurement hardware is directly connected to the medical system, the wireless transmission and intelligent recording of joint motion data can be realized, which is convenient to consult and access at any time, facilitate the establishment of patient rehabilitation files, and design personalized and effective rehabilitation training for patients.
2, new electronic circumference ruler, help medical wisdom detection
In recent years, studies have found that Asian people tend to accumulate fat around the abdominal organs, even in a lower body mass index (BIM) will still have a higher waist-to-hip ratio (WHR), body shape is characterized by thin limbs, abdominal obesity, which is called central obesity. The World Health Organization has revised the obesity standard based on the physiological and morphological characteristics of residents in the Asia-Pacific region. Central obesity is defined as waist-to-hip ratio exceeding 0.9 for men and 0.85 for women. Waist and hips have been linked to risk factors for type 2 diabetes, cardiovascular disease, and some cancers.
Attaching importance to waist-to-hip ratio and recording body circumference is of great significance to physical health assessment. How do you quickly measure body circumference to get a waist-to-hip ratio? Ejeray electronic health ruler, an intelligent circumference ruler popular at home and abroad, can easily achieve multi-user body circumference management. Measuring hardware with electronic digital display large screen, easy to read; With a smooth scale back shrink device, one key shrink tape, simple operation, accurate value.
After the hardware wireless connection management system, the measurement data will be synchronized to the cloud and updated to the system, realizing electronic input and quickly generating spreadsheets, avoiding the trouble of manual recording and calculation, which can effectively help the basic medical and health service institutions to establish a smart, efficient and convenient body health management system.