Top 4 Digital Woodworking Tools Must-Have for any Carpentry or Workshop
2022.08.22 / By Gemred
Are you worried about your woodworking efficiency and accuracy? Are you confused about which hand tools to buy for woodworking? If so, a set of highly-rated construction woodworking measuring tools below may be your best choice.
Whether you're just starting out and wondering what essential woodworking tools a beginner needs or you're an experienced carpenter looking to replace a measuring tool, the below 4 are the must-have tools every woodworker should have in their workshop and assist you to complete the perfect crafts.
Top 1: Digital Miter Saw Protractor Angle Finder MP01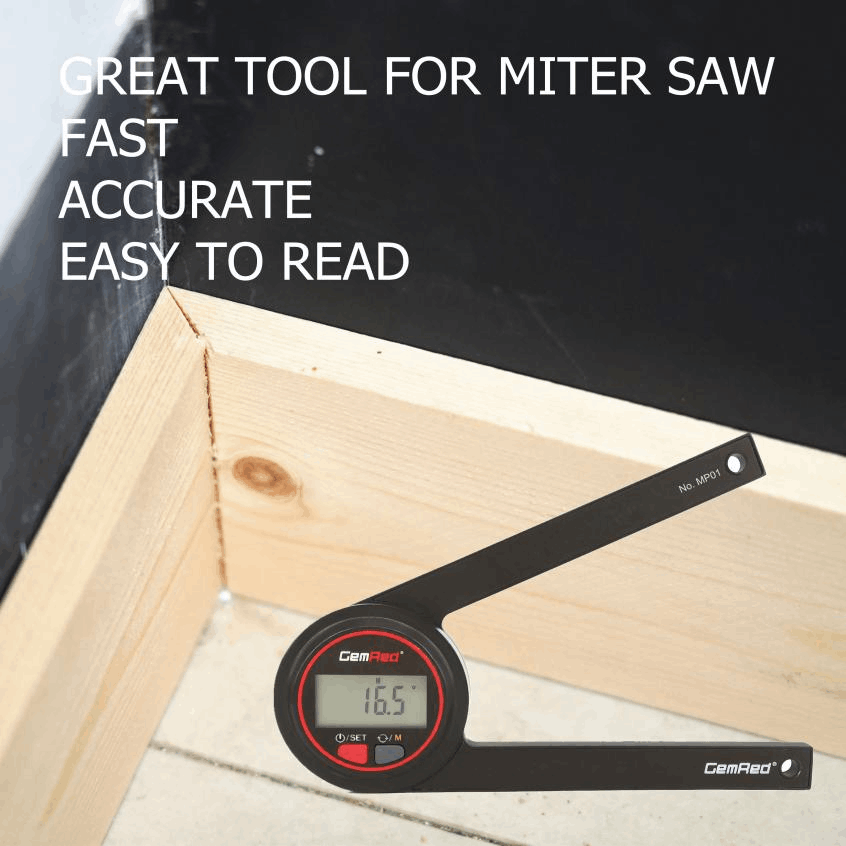 Are you still using the traditional miter saw protractor? If so, you need to read the engraved scales carefully, and need to do a lot of math work when you want to measure the corner wall from the front. However, GemRed Digital Miter Saw Protractor can help you solve all of these pieces of stuff.
This unit comes with a digital LCD, the user can read the measured data at any point with the LCD reversible function. Also, this protractor will show you the cutting angle of miter saw directly, there is no need to calculate by yourself anymore. You can use this unit to find the correct angle of your home stairs, then create a jig to complete your horizontal stair balusters. Also, it is perfect to use for plumbing, carpentry, metalwork, and much more. (Available at Amazon: https://www.amazon.de/GemRed-Gehrungss%C3%A4ge-Winkelmesser-Winkelmesswerkzeug-Holzbearbeitung/dp/B09XQMD9HB/ref=sr_1_2?m=AW778WAKAB9BG&marketplaceID=A1PA6795UKMFR9&qid=1690255133&s=merchant-items&sr=1-2)
Top 2: Digital Angle Finder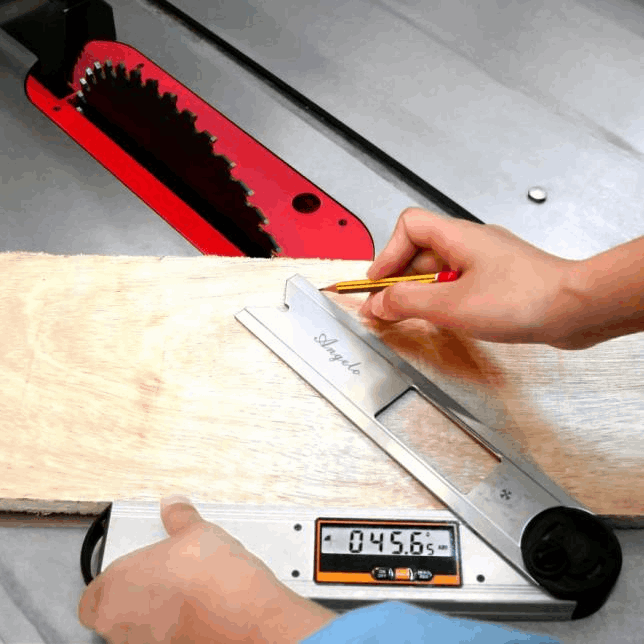 When you have to cut a chair rail or baseboard or quarter or half round, how do you work on it accurately? To determine inside and outside angles on wall corners or levels when drawing lines, the GemRed Digital Angle Finder is a worthy option.
This unit is a good helper in woodworking, construction, welding, fabrication, mechanical work, and home renovation. For example, every plumber owns a digital finder. By placing the plumbing drain lines at a precise angle, an entire plumbing system is sure to drain away from the sink, tub, and bathroom stool properly. When installing a drain field, a digital angle finder assists the plumber in making sure that the system drains perfectly. (Available at Amazon: https://www.amazon.co.uk/GemRed-Protractor-Measurement-Woodworking-Construction/dp/B095C16R9D/ref=sr_1_8?m=AW778WAKAB9BG&marketplaceID=A1F83G8C2ARO7P&qid=1690255166&s=merchant-items&sr=1-8)
Top 3: Digital Level Box with Magnetic Base
Most circular saws have a tilt facility allowing you to tilt the blade from a vertical position to whatever angle you need. But this tilt facility is usually done by a type of scale with an indicator which does not give you a precise result. Here, you can set your circular saw blade and achieve a precise angle with our easy and simple GemRed Digital Level Box.
This handy digital level box features a strong magnetic base that attaches directly to metal blades to ensure that they're set at the correct angle before you cut. It could be locked at any angle and get the readings at any point and automatic backlight, and it works well when you need to set precise bevel angles on conduit, pipes, saw blades, vents, ducts, or other ferromagnetic surfaces.
(Available at Amazon: https://www.amazon.co.uk/GemRed-Protractor-Woodworking-Automobile-Renovation/dp/B09578WQBB/ref=sr_1_5?m=AW778WAKAB9BG&marketplaceID=A1F83G8C2ARO7P&qid=1690255166&s=merchant-items&sr=1-5)
Top 4: Digital Bubble Level Tool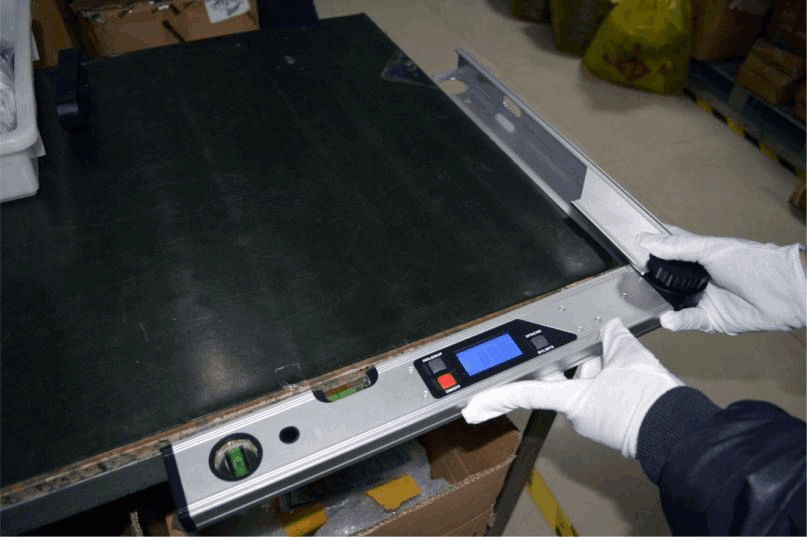 Does the level matter in woodworking?
In simple terms, a level is used to determine whether a surface is horizontal or vertical. Without this, you can't build a house that works well or looks good—no need to mention hanging kitchen cabinets or trim out a door. Thus, a digital bubble level is a must-have tool for a carpenter, which can rest on your workpiece or butt up against it.
GemRed Digital Level Tool features durable aluminum housing that can withstand impacts, even from roof height. It has a strong magnetic base that can firmly attach to ferrous metal surfaces like conduit, pipe, steel construction framing, metal fabrication and more, acting as a third hand when you're working around steel.
(Available at Amazon:https://www.amazon.co.uk/GemRed-Protractor-Measurement-Woodworking-Construction/dp/B095BXC68J/ref=sr_1_7?m=AW778WAKAB9BG&marketplaceID=A1F83G8C2ARO7P&qid=1690255166&s=merchant-items&sr=1-7 )