Precision at Your Fingertips: GemRed – Pioneers among Digital Measuring Tape Manufacturers
2023.10.20 / By Gemred
From ancient times, measuring tapes have been invaluable tools, evolving from simple marked strings to the sophisticated tools we see today. With the digital age ushering in unprecedented innovations, digital measuring tape manufacturers quickly recognized the potential for enhancing traditional tapes. The emergence of digital measuring tape manufacturers signifies not just the blending of tech with tradition, but also a leap towards greater precision and convenience in the industry.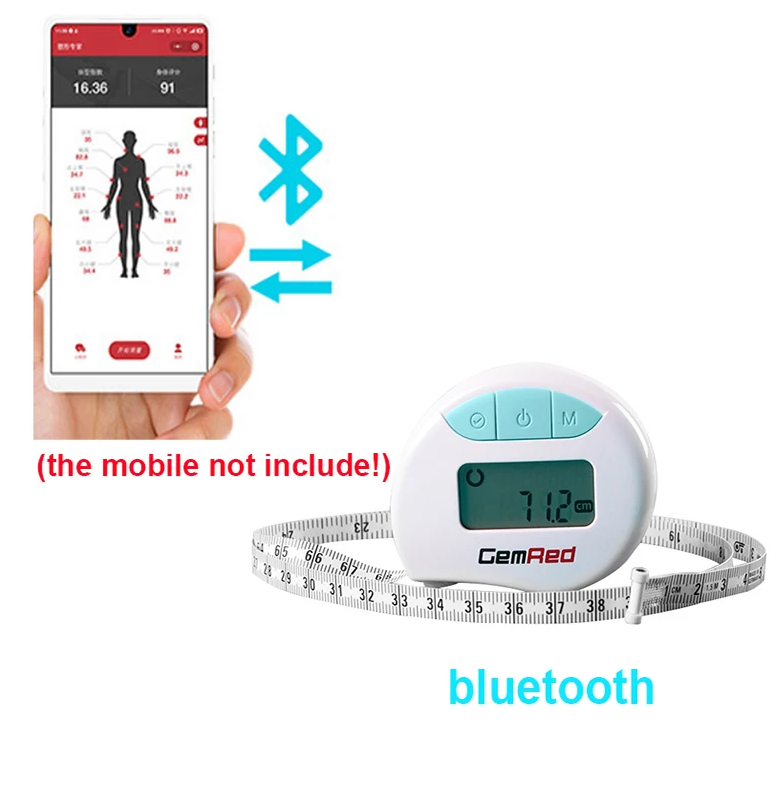 GemRed: A Snapshot
Background of GemRed
GemRed, a trailblazing company in the digital measurement sector, was established in 2003 in Shenzhen, China. Their unwavering mission centers around continuous innovation, providing customers with top-notch, high-precision measurement solutions that drive industry advancements and usher in a more intelligent and convenient future.
Diverse Product Portfolio and Technological Expertise
GemRed's product portfolio spans diverse industries, encompassing tools and IoT applications. They are located in an independent technology park and have 4 production lines, 4 laboratories and a chip COB packaging workshop. A dedicated workforce of over 160 ensures consistent stability.
From Traditional Tools to Cutting-Edge Digital Measurement Innovators
Throughout its journey, GemRed has undergone a remarkable transformation in the digital measurement arena. Initially concentrating on traditional measuring instruments like calipers and angle finders, they introduced digital displays to augment accuracy.
As technology advanced, GemRed wholeheartedly embraced digitalization, seamlessly integrating Bluetooth connectivity and smartphone apps into their product offerings. This innovative approach empowered users to effortlessly gather and analyze measurement data, leading to heightened efficiency and precision.
Backed by a skilled R&D team of 20 members, they have secured over 50 patents. Providing precise solutions that leave an indelible mark on global industries in more than 60 countries. All of this is underpinned by a commitment to exceptional customer service.
A Global Leader in Digital Measurement Solutions and Exports
With a global footprint, GemRed exports an impressive 2 million sets annually, earning the trust of industry leaders and prominent e-commerce platforms alike.
GemRed's dedication to research and development has yielded state-of-the-art measurement solutions, encompassing laser distance meters, digital inclinometers, and digital protractors. These products cater to the needs of professionals in construction, engineering, carpentry and various other industry sectors. It also appeals to DIY enthusiasts looking for accuracy and reliability.
Key Features of GemRed's Digital Measuring Tapes
GemRed's Digital Measuring Tapes distinguish themselves with a comprehensive range of features, making them the favored choice for professionals and enthusiasts alike.
Technological Innovations and Unique Selling Points
Advanced Digital Precision: GemRed's measuring tapes incorporate cutting-edge digital technology, guaranteeing highly accurate and dependable measurements. GemRed proudly owns American core patent technology, enhancing measurement precision while reducing power consumption. The tape itself is imported from Germany, characterized by its soft, lightweight, accurate, and durable construction.
Sync with EJERAY App: These tapes seamlessly sync data with the EJERAY app, ensuring you never miss recording crucial measurements, thereby tracking your body's changes over time.
Memory Function: GemRed's tapes often feature memory capabilities, enabling users to store and retrieve measurements for enhanced convenience and efficiency. The app facilitates progress tracking, providing weekly, monthly, and yearly graphs for eight body parts: neck, shoulder, bicep, chest, waist, hip, thigh, and calf.
User-Friendliness and Design Elements
Intuitive Interface: GemRed's user-friendly interface simplifies operating the digital measuring tape, making it accessible even to newcomers to this technology.
Ergonomic Design: The GemRed tape measure is designed with user comfort as the top priority. Featuring an ergonomic grip and balanced weight distribution, it can be used for extended periods of time without discomfort. They also have powerful magnets integrated into the tape measure socket. Locking pin and clever anti-shedding groove design for efficient measurement.
Compact and Portable: GemRed's tapes are typically compact and lightweight, ensuring easy portability and storage when not in use.
Low Power Consumption: The use of a readily available and safe CR2032 lithium battery, coupled with a convenient concave "+" mark for battery cover access, ensures efficient power management.
Precision and Accuracy in Measurements
Outstanding Accuracy: GemRed takes pride in the precision of its digital measuring tapes, consistently delivering accurate measurements down to the finest detail.
Error Reduction: Leveraging digital technology, these tapes minimize human errors often associated with traditional measuring tapes, providing more dependable results.
Versatile Units: Users can effortlessly switch between various units of measurement (e.g., inches, feet, meters) at the press of a button, enhancing versatility and adaptability.
Is the GemRed Body Measuring Tape Better than Traditional Measuring Tapes?
Digital measuring tapes, like GemRed's, offer several advantages over traditional analog tapes:
Accuracy: Digital tapes provide precise and consistent measurements, reducing the likelihood of human error compared to reading markings on a traditional tape.
Ease of Reading: Digital displays offer clear and easy-to-read measurements, eliminating the need for interpretation and reducing the potential for misreading.
Memory Function: Many digital tapes, including those from GemRed, have a memory function. Allows the user to store and recall measurements, something that is not possible with analog tape.
Unit Conversion: Digital tape often allows for quick and easy unit conversion. Adapts to a variety of measurement systems, whereas analog tape requires manual calculations.
Advanced Features: GemRed's digital tapes offer features such as smartphone syncing, data tracking, and Bluetooth connectivity. Thereby enhancing its functionality and practicality.
CONCLUSION
In the realm of measurement, precision reigns supreme, and GemRed has firmly established itself as a trailblazer among digital measuring tape manufacturers. GemRed has an unwavering commitment to innovation as our guiding principle. Reshaping the way we measure and navigate our surroundings. Our digital tape measures usher in a new era in industries ranging from architecture and design to engineering and healthcare. Offering unparalleled accuracy, user-friendliness and adaptability.
GemRed's dedication to pushing the boundaries of technology has not only empowered professionals but has also democratized precision, making it accessible to DIY enthusiasts and hobbyists alike. As a globally recognized brand, GemRed has left an enduring imprint on the measurement landscape. With GemRed, precision is not just a goal; it's an integral part of our legacy. Whether you're measuring for work or unleashing your creativity, GemRed ensures that precision is always within your reach.